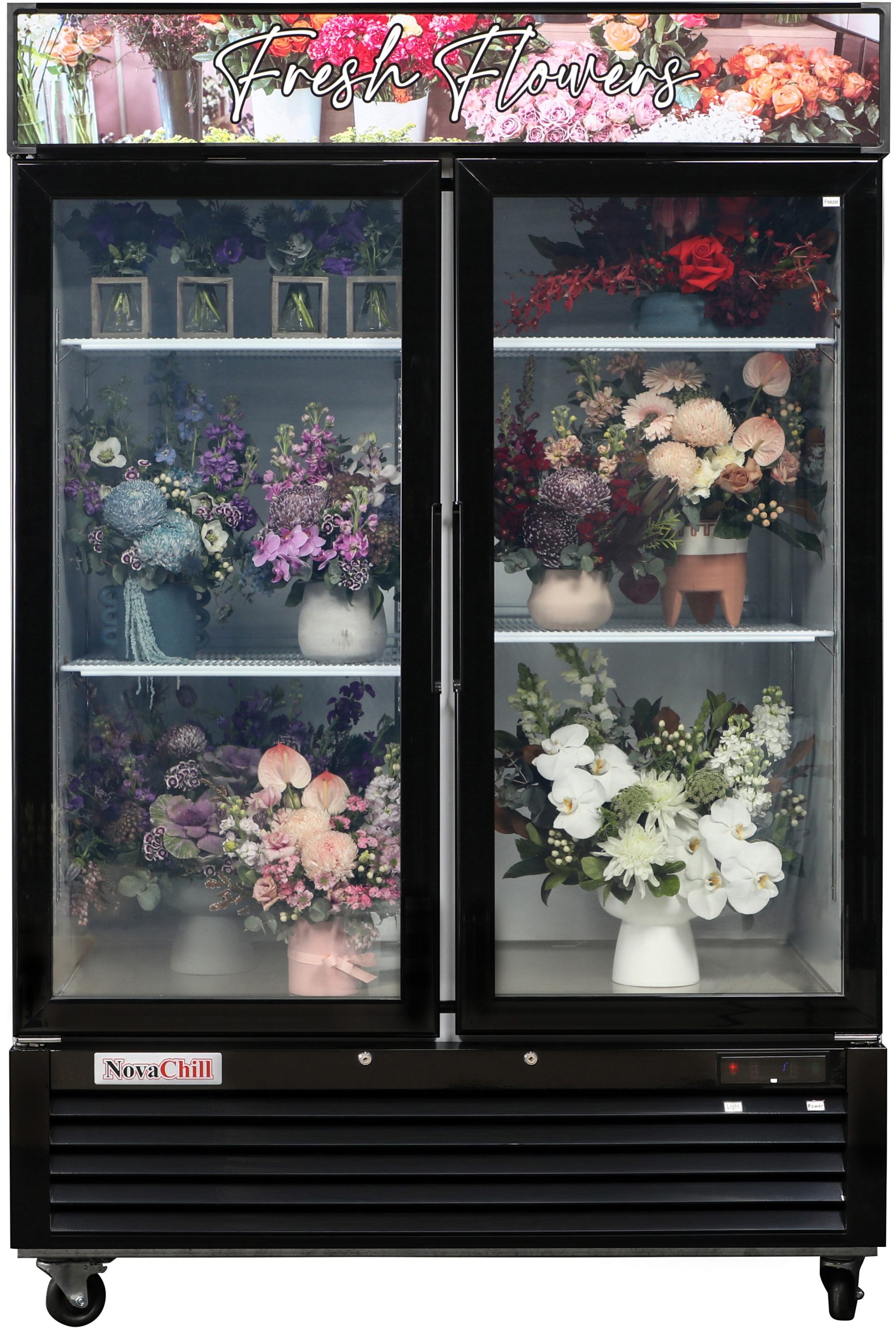 Looking to buy a flower display fridge? We've put together the ultimate guide for you that answers some of the most common questions.

Flowers are delicate and require special care. Flowers that look vibrant and fresh with a long vase life will guarantee happy customers. While droopy and lifeless flowers will reflect poorly on your business.

Flower fridges are ideal for large floral businesses, small flower shops, hospital gift stores, and supermarkets that sell flowers. They can also be used to store flowers for promotional events, weddings, and more.

The right flower display fridge will keep your flowers fresh, vibrant, and appealing. It will simultaneously protect your flowers while extending their vase life!

The type of flower display fridge you choose is critical for a successful floral business. But before you jump into buying the first display fridge you find, you have to make sure it's actually designed for storing flowers!
Can I just buy a commercial display refrigerator to keep my flowers in?
No not just any fridge will do. A standard commercial cooler is completely different to a floral display fridge. Although they may look the same, they are built for two entirely different purposes!

A commercial fridge is set up to keep humidity low and airflow high. This keeps food products from spoiling quickly. If the humidity is too high and the airflow too low, bacteria and mould is likely to grow on the food.

But when it comes to fresh cut flowers, their high water content and delicate leaves, petals, stems, and flowers require much higher humidity and gentler airflow. The higher humidity levels in a flower display fridge help the flowers maintain their water content and keeps them from drying out. This keeps their colours vibrant and keeps the integrity of the flowers in tact.

The gentle, baffled airflow of a flower fridge maintains a humid environment without dehydrating the plant. The strong, fan-powered airflow of a commercial cooler will quickly dehydrate your flowers, causing inventory loss and hurting your bottom line.

Another thing to note is that a regular display fridge may not allow you to set a custom temperature and humidity level ideal for flower storage. Flowers that come from temperate areas will require a different temperature to tropical plants, for example.
Can I use a commercial cooler that was converted for flower refrigeration?
Converting a commercial cooler into a flower fridge is both complicated and costly. The systems that are inherent to flower fridges are vital to your plants and flowers survival. Buying a cooler from someone who claims to have converted it into a floral fridge is a risk to your stock, to your wallet, and to your business. Save yourself the hassle and buy a cooler that was designed for storing delicate plants!
What temperature should my flower display fridge be set to?
Fresh cut flowers require refrigeration to extend their life and keep them looking fresh for as long as possible. But if the temperature is set too low, the flowers are at risk of being damaged. So to make sure you don't lose any stock, the standard temperature setting for a commercial flower display fridge is set from 10C – 14C.

Another thing to consider is that cut flowers have a very low density, so they can not stand fluctuating temperatures, so even a slight shift in temperature can have disastrous effects on your flowers and cause them to droop. So it's important to choose a cooler that is of high quality, and can maintain the set temperature evenly, even if the door is regularly being opened. Happy flowers ensure happy customers that will come back for more!
What humidity level should my flower display fridge be set to?
A humidity level of 80% - 95% is ideal for storing flowers and keeping them fresh. The humidity level should not go below 80%. Plants from arid climates such as cactus will require a lower humidity setting.

As mentioned, a fridge with a strong fan-forced airflow will bring the humidity level down and will cause your plants to dry out. The gentle, baffled airflow in your floral cooler is gentle enough to give your plants the perfect level of humidity.

The wrong fridge can mean dehydration, wilting, and bacterial infections for your cut flowers. This will cut the lifespan of your stock in half. A dehydrated flower will start curling at the petals and slowly turn brown, eventually dropping its petals. This would be unsightly for your business and would affect your bottom line. So ensure that you have a high quality floral cooler that can protect your stock with the correct systems and settings in place.
How do I maintain my floral fridge?
Like with any piece of equipment, even the most quality flower fridge will require some maintenance over time. Which is why it is important to choose a fridge that has readily available parts on it so that when your fridge needs maintenance or happens to break down and need repairs, you aren't stuck waiting for weeks, possibly even months for parts on the slow boat from China.

Some simple steps to maintain your flower fridge:
Clean the inside of any debris, soil, or water.
Make sure there is proper ventilation around your fridge.
Check the unit for known issues regularly.
Check gaskets regularly.
If you'd rather not worry about it your self have routine maintenance done by a qualified technician regularly.
NovaChill provide support, maintenance and repairs on all of our models and each of our units are fitted with readily available parts, so in the unlikely event your fridge breaks down, we'll be able to get you back up and running quickly. Please get in touch with us if you have any questions.

Choosing the right floral fridge for your business

As we've already covered, not just any commercial fridge will do the job. The fridge you choose must be a specialised floral fridge, so don't make the mistake of buying any old commercial fridge. The second biggest mistake you can make is buying a cheap Chinese model that is filled with unreliable and and hard to source parts. Also be careful of Chinese models that are sold as "floral fridges" when they are in fact just regular commercial fridges.

You can't go wrong if you purchase a floral cooler from a reputable company that offers high quality Australian products, although an important aspect to consider is how readily available the parts are on whichever model you choose.

Which brand should I buy?

We're biased of course, however NovaChill Floral Fridges are the top of the line and in fact you will be hard pressed to find a better quality and more reliable flower display fridge in Australia. Read on to learn more about why you should choose a NovaChill fridge.